Analytical data provides you with valuable information to help you improve your website. Understanding your website visitors and the experience they have on your website is absolutely vital for every business. Analytics tools help you collect valuable data to determine what does and doesn't work on your site. There are lots of website analytics tools to choose from.
Here are some of the most effective and free analytics tools we recommend for keeping track of user experiences on your website.
Understanding Web Analytics
Optimizely's optimization glossary defines web analytics as "the measurement and analysis of data to inform an understanding of user behavior across web pages."
There are many forms of analytical data that can be collected. Some tools only collect one or two types of data. Other tools collect a multitude of data categories. The data collected can be information about site usage, such as page views, bounce rate, session length, conversions, etc. It can also be data about the users themselves, such as demographics, interests, in-market categories, and more.
The data collected can be used to analyze the performance of your website and advertisements. It helps you understand what works and what doesn't, where users are dropping off, and more. These metrics help you optimize your website and improve performance.
If you aren't using analytics, you're basically flying blind and hoping for the best. That will result in a lot of your marketing budget being wasted on ineffective efforts. Analytical data will give you a roadmap to improve your online performance and advertise more efficiently.
Powerful Free Analytics Tools
There are lots of analytics tools available to choose from. Some can be very expensive and out of the budget range of most small businesses. There are several powerful tools that you can use to gather various forms of analytical data for free though. Here are our recommendations for the top free website analytics tools.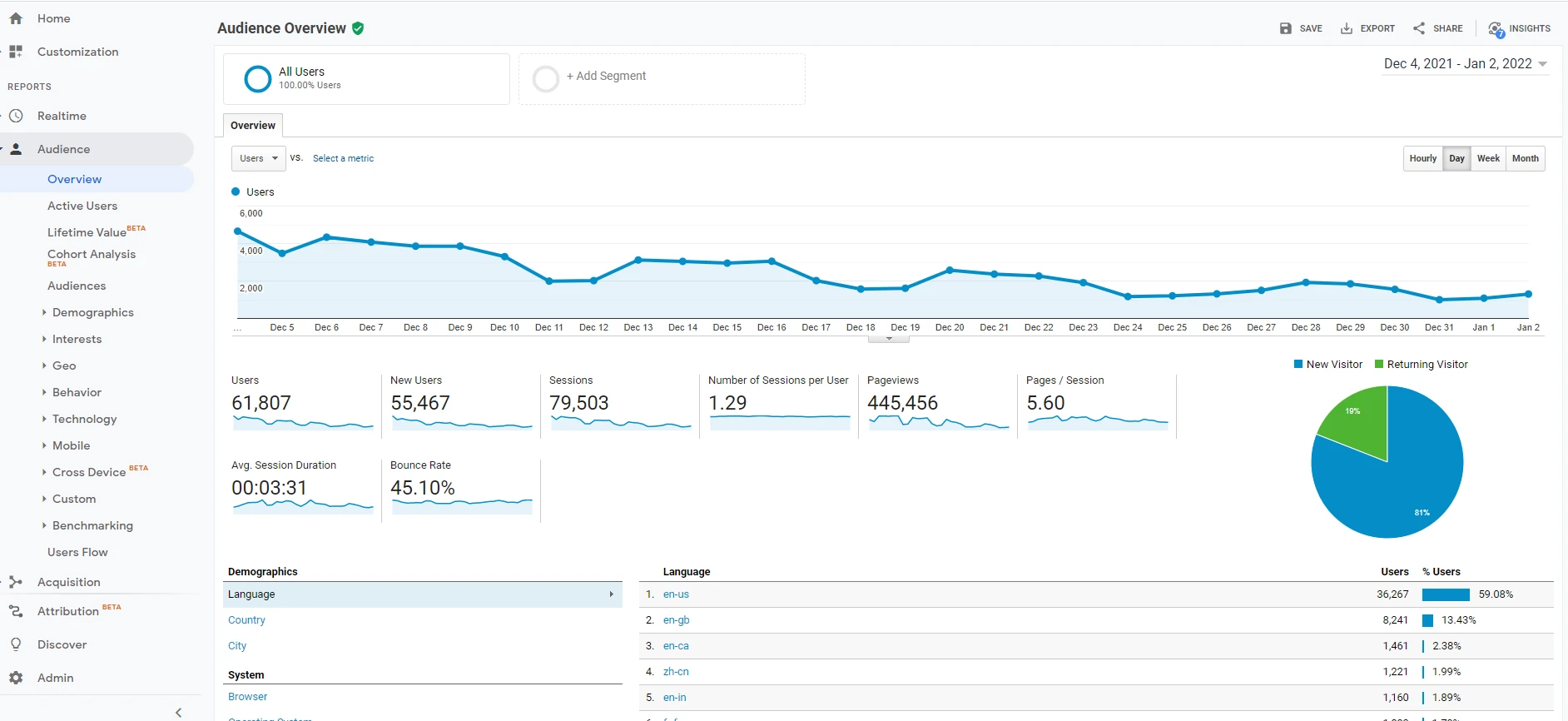 Google Analytics is one of the most powerful free tools available. It allows you to easily monitor all the standard site performance data, such as the number of visitors, bounce rate, page views, etc. That's just the tip of the iceberg though. Google Analytics provides highly detailed insights on your website's traffic, allowing you to build a greater understanding of who uses your site and how they use it.
There is a wide range of tools and features Google Analytics offers to make it an even more versatile tool. You can view real-time traffic analytics to see how many visitors are on your site right now. You can define custom goals to track how many visitors complete a specific action on your site. Google Analytics also offers a tool to build your own custom tracking links which you can then monitor in the campaigns tab.
Hotjar is a great tool for understanding how users see and interact with your website. It's also very useful for collecting user feedback about their experience with your website and specific features on it.
You can use Hotjar with a single website if you just want to use it on your business's site in-house. If you are an agency or have multiple sites, you can add multiple sites under your account. Each site will get its own dashboard and unique tracking code to help keep data organized. You can switch between sites easily from a selection menu.
Hotjar offers several powerful tools in their free plan. The free plan is limited to a set number of views per month for each tool. If you need more than that, you'll have to upgrade or manually delete old data. The tools they provide you with offer very valuable insights into your site visitors' journeys.
Heatmaps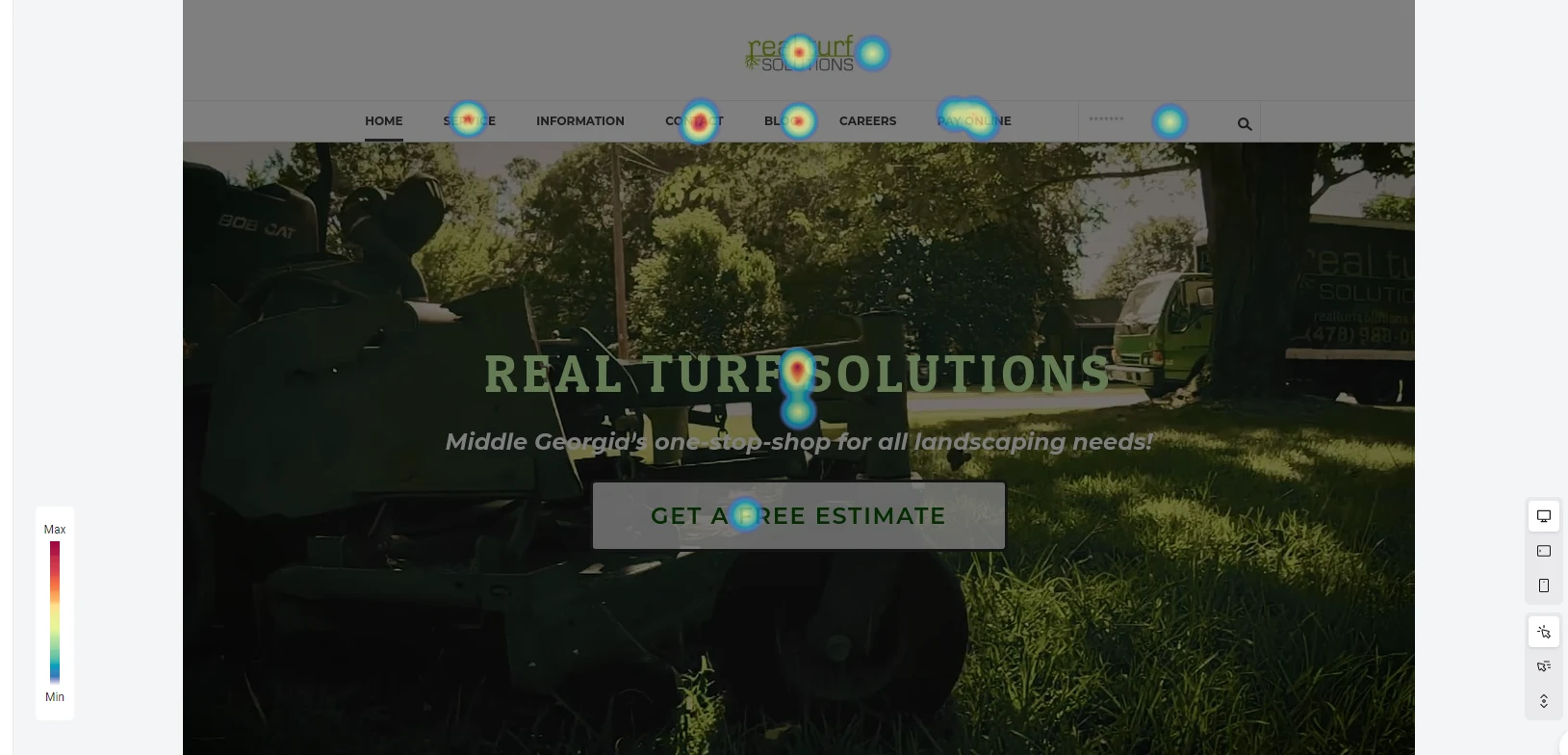 Hotjar lets you collect heatmap data to see what elements site visitors click most and how far down the page they scroll. You can record heatmaps for a specific page or capture data from a group of similar pages which get combined into one heatmap.
The data from your heatmaps can help you understand if you need to move elements higher on the page. You can also see if your users are getting confused about where to click. If you see a high number of clicks on an element that isn't linked to anything, you'll know it is likely confusing your users.
Session Recordings
Session recordings are one of Hotjar's most powerful tools. This tool lets you capture a video of users' sessions on your site. Don't worry, it doesn't record anything except the viewport for your website. It will automatically censor any sensitive data in the recording as well. Session recordings will log user actions on the video player timeline so you can skip between the actions you want to watch.
Polls and Surveys
You can set up polls to be shown to site visitors based on specific conditions. This is great for collecting feedback on your conversion pages visitors are redirected to after completing a desired action, such as a checkout complete page, sign-up confirmation page, etc. You can also define conditions to collect feedback from visitors who haven't completed these actions. This will help you understand what you can do to improve your conversion rates.
Facebook pixel allows you to gather data from your website visitors which can then be used to create custom audiences for Facebook advertising campaigns. You can use Pixel data for two different types of advertising audiences- remarketing and look-alikes.
Remarketing
Remarketing is the process of advertising to people who have previously interacted with your website. Facebook pixel data can be used to create general remarketing campaigns targeting all users who previously interacted with your site or a very precise group of users who took certain actions on your website. You could target people who purchased a specific product with an ad for the latest accessory or newest version of that product.
Event Tagging
Facebook Pixel has an easy-to-use event tagging tool available on the control dashboard. You can use it to setup specific events to be triggered on pages of your site based on a visitor's actions. This lets you segment your data and track the true ROI of your advertising campaigns. It also helps when setting up remarketing groups because you can target users who triggered a specific event on your site.
Pro Rank Tracker monitors your ranking for the keywords and search terms that matter most to you. You define the keywords that you want to rank for, then Pro Rank Tracker keeps you updated on where your website stands in search results for those terms. This is a scaleable tool that will fit any size of business. It can track results locally and internationally so you can monitor your global performance. They also offer multiple languages which is a great feature for international businesses. They provide you with daily updates on your keyword rankings so you can stay on top of your SEO. Pro Rank Tracker also includes tools for researching competitors and seeing how your business compares to their rankings.
Pro Rank Tracker offers a free-forever plan which includes access to premium tools for the first 30 days, You are not required to input any payment info to access the free plan, so there are no worries about sneaky charges.
Pick What Works Best for You
You don't have to employ all of these tools on your site. In fact, adding too many analytical tools to your site can actually slow down your webpage loading times, which can hurt your SEO rankings. Choose two or three tools that you feel are best suited to your business and marketing needs. Give those a try and see what you think of them. If they don't work well for your needs, try something different until you find the right fit.
Website analytics and data can be complicated to understand. If you need help implementing and understanding your analytical tools, we are here to help! Feel free to request a free marketing consultation from us to see how we can help you!