If you provide local services, brand awareness needs to be a top priority. It is vital for your business to rule your service area. Your competitors are dependent on the same limited pool of local clients that you are, Whoever establishes brand dominance in the area will take the lion's share of clients. Here are some ways to saturate your service area with your brand.
Small businesses that provide services on-site, like landscapers or painters, are limited to a defined service area. That means all of your competition are battling for the attention of the same audience. Putting your brand in front of people the most often will help you become a "household name" in your local area. You can do this through local saturation marketing and local SEO.
Local Marketing
The are several methods for advertising your business locally. You should consider a combination of these methods to give your brand the best coverage across all channels. Here are some of the local marketing methods we see the best results from. Be sure you are tracking the sources of your leads so you know where people are finding you.
Fleet Branding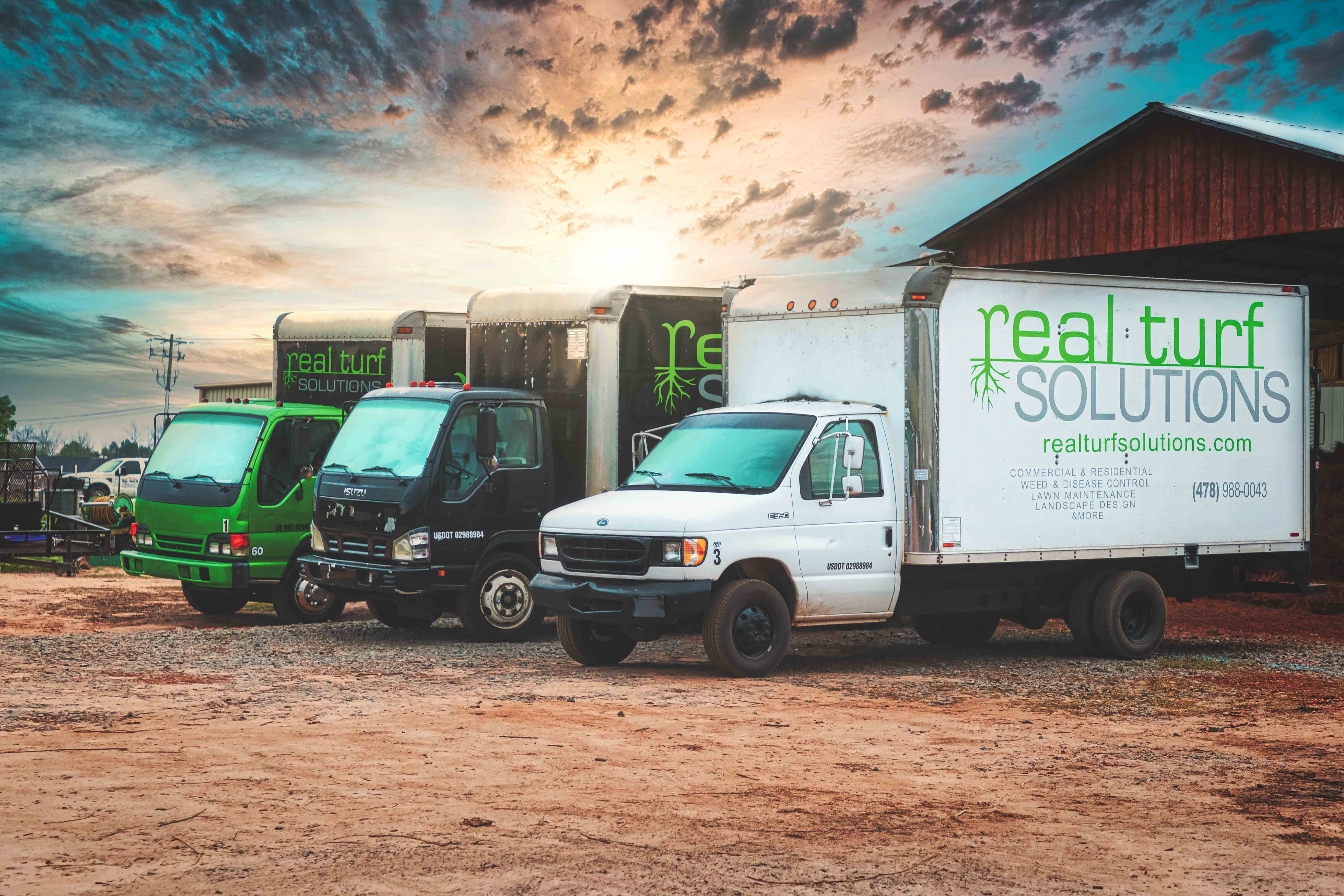 Your service trucks are out around town every day. If your trucks aren't branded, you could be missing out on a lot of business. Neighbors see your trucks at a house in their community where you're doing work. They may be looking for someone to do the same type of work at their house, but how can they know who you are? Obviously, they could come over and ask, but most people won't put in that kind of effort.
Clearly displaying your company name, website, and phone number on your service vehicles will allow them to easily contact you. You should also consider listing a few of the services your company provides. If you have room, you might also want to include social media icons to show what social platforms you're on and encourage people to connect with you on your social networks.
People seeing your trucks around town will also increase trust in your brand. They see that you are out doing work every day and you're not just some fly-by-night operation.
How to Brand Your Fleet
If you have the budget for getting a truck wrap, this is the be option. You can also get an airbrush paint job with your logo and information. These options can be a bit expensive though. The cheap option is using vehicle magnets or decals. At the least, you should invest in magnets for all of your trucks with your logo and phone number on them. You can then get them painted or wrapped as your budget allows later.
Key Information to Include with Fleet Branding:
Company logo/name
Primary phone number
Company website
Primary email address (usually a sales or info email address)
Brand colors
Uniform design traits across all company vehicles
The primary type of services you offer
Social media icons
Also, you should have your employees branded with a company uniform or t-shirt which has your logo and contact information. This way you are advertising at every job site around town and people know who you are everywhere you do work at.
Yard Signs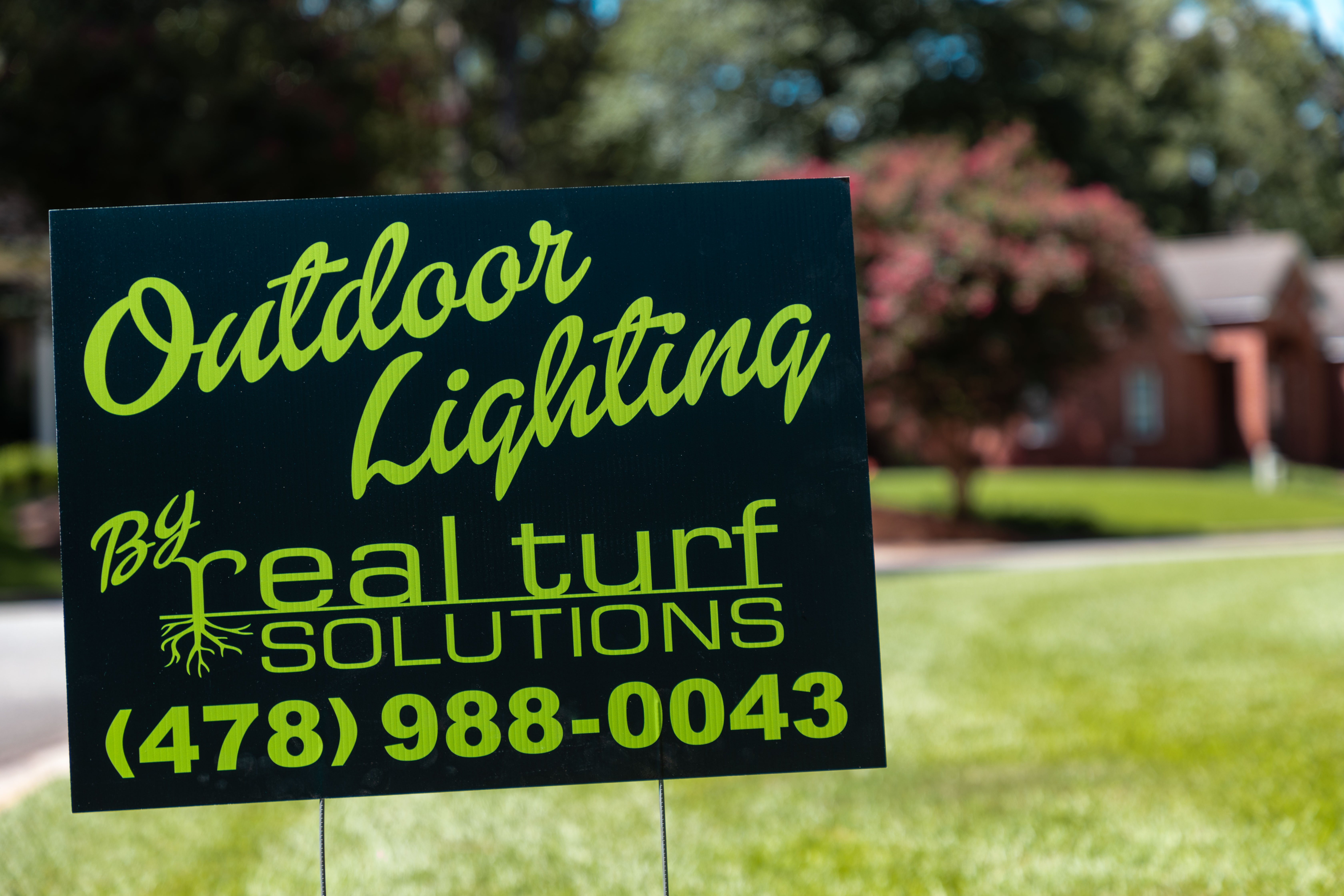 Yard signs can be a very effective way to advertise locally. They can be used to quickly saturate a specific local area with your brand, You can place a yard sign out front of a job site while doing work. You can also put signs along highways and at busy intersections, just be sure to check local laws concerning this.
Place signs in the areas where your target audience will be most likely to see them. You may be able to place signs across the street from entryways to subdivisions and neighborhoods where your audience lives. Stop signs are a great place to put signs near too. This way people will have more time to notice and read your sign. You can always move your signs around as needed. Moving them will also help prevent signs from disappearing. They are more likely to get removed if they remain in the same area for an extended time.
Designing Yard Signs
Remember that your yard signs are going to be seen mainly by people in vehicles. Take this into account when designing your yard signs. You should make sure the information is legible for drivers passing by. It should be readable with a brief glance of a few seconds. Don't try to squeeze too much information onto the signs. You should keep it simple.
Information to Include on Yard Signs
Again, yard signs should be simple. Include your logo, a specific service you are advertising, and your phone number. You might include your website as well if there is room. Also, consider what action you want people to take to get a quote or an estimate. If you want them to request an estimate on your website rather than call, it's more important to include your website URL.
Make your phone number bold and be sure that the text stands out from the background well.
Local Social Media Ads
Social media ads can be targeted locally so that only people in selected areas or within a specific radius of your business will see your ads. This can help you build a loyal local following online. The benefit of this is that you can then continue to engage with locals and promote your future offers to them. It gives you the chance to tell them more about your business and show off jobs you've done in the area.
Local social media ads should mention the fact that you are a local business. You can also show this with pictures of jobs you've done at recognizable local locations. Be sure you include a clear call-to-action (CTA) in your ad. The CTA is what you want people to do and can be something like "Request an estimate" or "Get started here."
If you need help with your social media management, we will be glad to take a look at it for you.
Postcard Mailing Campaigns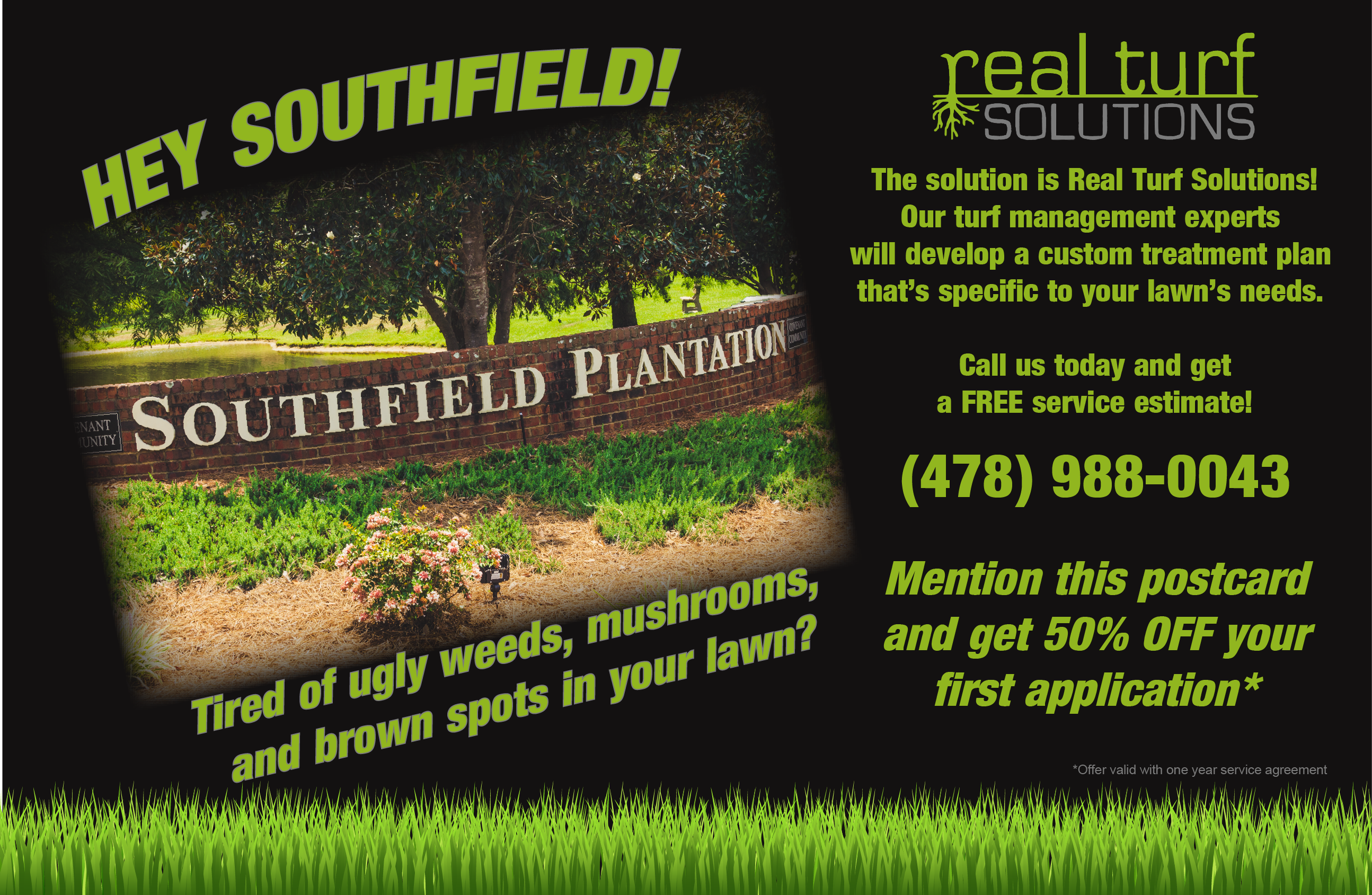 Postcard marketing isn't dead. It just has to be done properly.
Let's look at it this way. If you are looking through your mail and see a postcard with a random company logo on it, are you going to stop and read it? Probably not. If you see a postcard showing your street or a house in your neighborhood though, you're probably going to stop and see what it's about.
You need your postcard marketing mailers to be relevant to your audience. It should be something that makes them stop to look at it when they sort their mail. You can do this by targeting specific neighborhoods and tailoring your design and message to the people living there.
Designing Effective Postcards
The example above is a postcard we designed for Real Turf Solutions. It was personalized for and sent to a very specific audience. Let's break down the design of this postcard.
Personalization
This particular postcard targeted a specific subdivision they were looking to pick up more work in. We took a picture of the entry sign at the front of the subdivision, which every resident there passes on their way home. They easily recognize this landmark and it shows them that Real Turf is familiar with their area. It grabs their attention and makes it more likely that they'll stop to read the postcard rather than just tossing it in the junk pile without a second thought.
We looked in the area to see what problems people might be encountering in their yards. This is why we included the tagline mentioning weeds, brown spots, and mushrooms. These were common issues which many of the recipients would notice in their own lawn.
Call to Action
Once you have their attention, you should give a clear CTA to encourage them to take action. "Call us today and get a free estimate" followed by the phone number in bold tells the reader what the next step is. We then set the hook with a special offer of 50% off the first application when they mention they received a postcard. This also serves as a way to track results by getting people to mention the postcard to get this special offer.
To prevent people from trying to pull one over on Real Turf, we included a condition on the offer specified in fine-print. It says that the offer is only valid when they sign up for a 7-round weed control program. This is important to prevent the business from losing money by giving 50% off and then having the person cancel after a single application.
Digital Billboards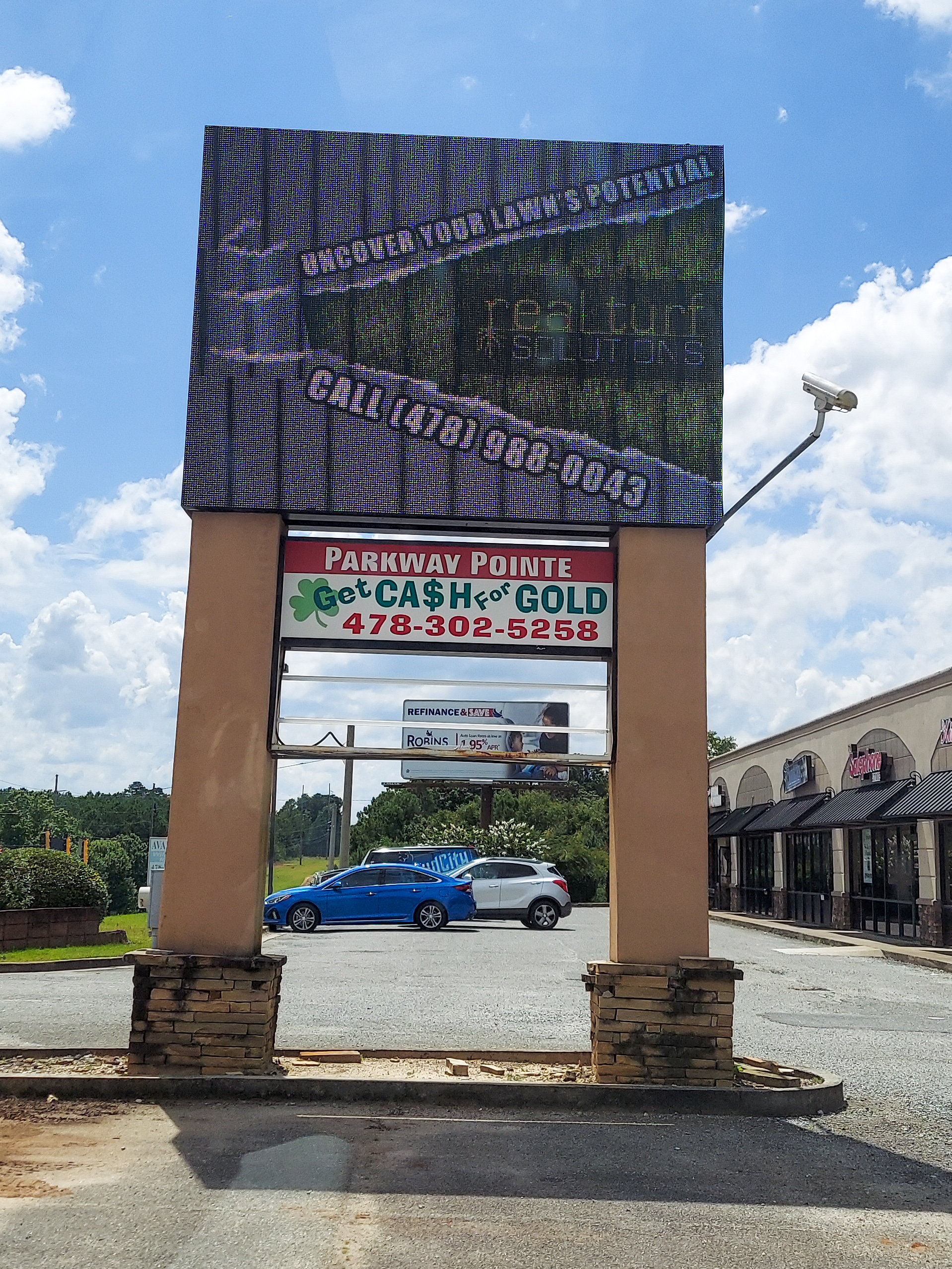 Regular billboards are expensive investments. However, a relatively new option has emerged which provides a much cheaper alternative- digital billboards. Digital billboard campaigns are managed online similar to a social media or search ad campaign. You set a daily budget, choose your signs, set times when you want your ad to show, and upload your design. It can be as cheap as one cent per flip.
Each sign has a specific size which your design will need to match. Be sure to include your phone number and a clear CTA in your design.
You can create digital billboard campaigns on a platform called Blip. Use that link to get a free credit to get you started with digital billboard advertising. You'll get a dashboard where you can manage your campaigns and view reports.
If you would like to advertise with digital billboards but don't have the time to manage them or design your ads, we can design, set up, and manage your campaigns for you. Request a consultation to learn more.
Local Search Engine Optimization (SEO)
Optimizing your website's SEO is important, but for businesses providing services within a specific area, you want to be sure you especially focus on ranking locally. It doesn't do you any good to be on the first page results in an area you don't service. This is what makes local SEO important for your type of business.
Local SEO is SEO work that's done to improve your site's rankings in your local areas and for locally relevant searches. Local searches are location-specific search queries where people are searching for a specific service in their local area. An example of a local search query could be something like "lawn care services in Atlanta" or "flooring installation in Nashville" and other similar searches based on location.
Optimizing for Local Searches
Local SEO is achieved by including your target keywords and local locations in your website's text, or copy, as it is called by marketers, as well as in the headers and title of your page. Here are some examples of a few locally optimized landing pages we created for Real Turf Solutions.
Examples of locally optimized pages:
You can create landing pages like this for each of your target areas and services. These pages don't have to be linked publicly on your website necessarily, just be sure that you submit them for indexing to search engines through Google Console and Bing Webmaster Tools. This will allow them to appear in search results. You can also use these pages in advertisements for each of the areas you're marketing in.
SEO of any type is a long game. It doesn't happen overnight and can take weeks or months to start seeing results. Stick with it and it will pay off in the end.
If you are interested in optimizing your website for your local area, we can help you with that! Please feel free to request a consultation to learn more.
Keep Building Your Brand!
Local brand awareness is critical to the success of your local business. These tips should help you saturate your local area and make your name come to mind first when people need your services. There are many more ways to promote your business in your local area. These are just some of the methods we've found to be most effective.
Remember that your number one advertisement is going to be your work and your customers. If you provide a poor experience to customers, word will get around. Once you get a bad reputation, no amount of advertising will undo those bad reviews. Make sure you always focus on providing quality work and great customer care on every job.
If you'd like to learn more about local marketing and see how we can help you promote your business locally, please reach out to us.